From Internal Combustion to Battery Power, SC Automakers Enjoy the Ride
How is South Carolina poised to embrace the transition to EVS?

"The SC Energy Office has been promoting energy efficiency, renewable energy and clean transportation for decades, but (the momentum in the EV industry in SC) right now is exciting!"

— Sara Bazemore, Director of the SC Energy Office

What attracts businesses, including EV manufacturers, to South Carolina?

"Our investment in infrastructure, our low labor union participation rate, our workforce support with readySC and Apprenticeship Carolina, our ports and rail systems. Because we make it our business to be pro-business in South Carolina, we've got a mature automotive ecosystem with an international reputation."

— Sara Hazzard, President and CEO of the SC Manufacturers Alliance

How can we meet the increased consumer demand for EVS?

"Workforce. It's the magic sauce of our economy. It's the backbone of our economy. It's an evergreen issue, something that impacts every sector, every community, every employee — every single day."

— Susie Shannon, President and CEO of the SC Council on Competitiveness

How is South Carolina equipped to move forward with vehicle electrification?

"South Carolina is in a unique position based on our automobile industry — with over 500 automotive companies, 72,000 automotive workers, and a $27 billion economic impact — to step right into the electrification of these vehicles. We have the talent, vision and discipline to make this happen, and looking forward, we just need the coordination."

— Governor Henry McMaster

How does $70 million designated by the infrastructure investment and jobs act to SCDOT address EV needs across the state?

"Our emphasis will be on alleviating EV range anxiety, initially along interstate corridors and later in underserved rural areas. The Trucking Association, vehicle manufacturers, technology deployers, workforce development — all are incredibly importatnt as Team South Carolina continues this collaborative effort to bring a signature project to fruition in our state."

— Christy Hall, Secretary of the SC Department of Transportation

How can South Carolina address the challenge of EV battery materials outstripping supply?

"Every time there is a new project, there needs to be an end to that project. EV battery collection, repair, salvage and recycling is the non-sexy part of this business, but it can tighten an otherwise loose global supply chain."

— JB Straubel, Founder and CEO of Redwood Materials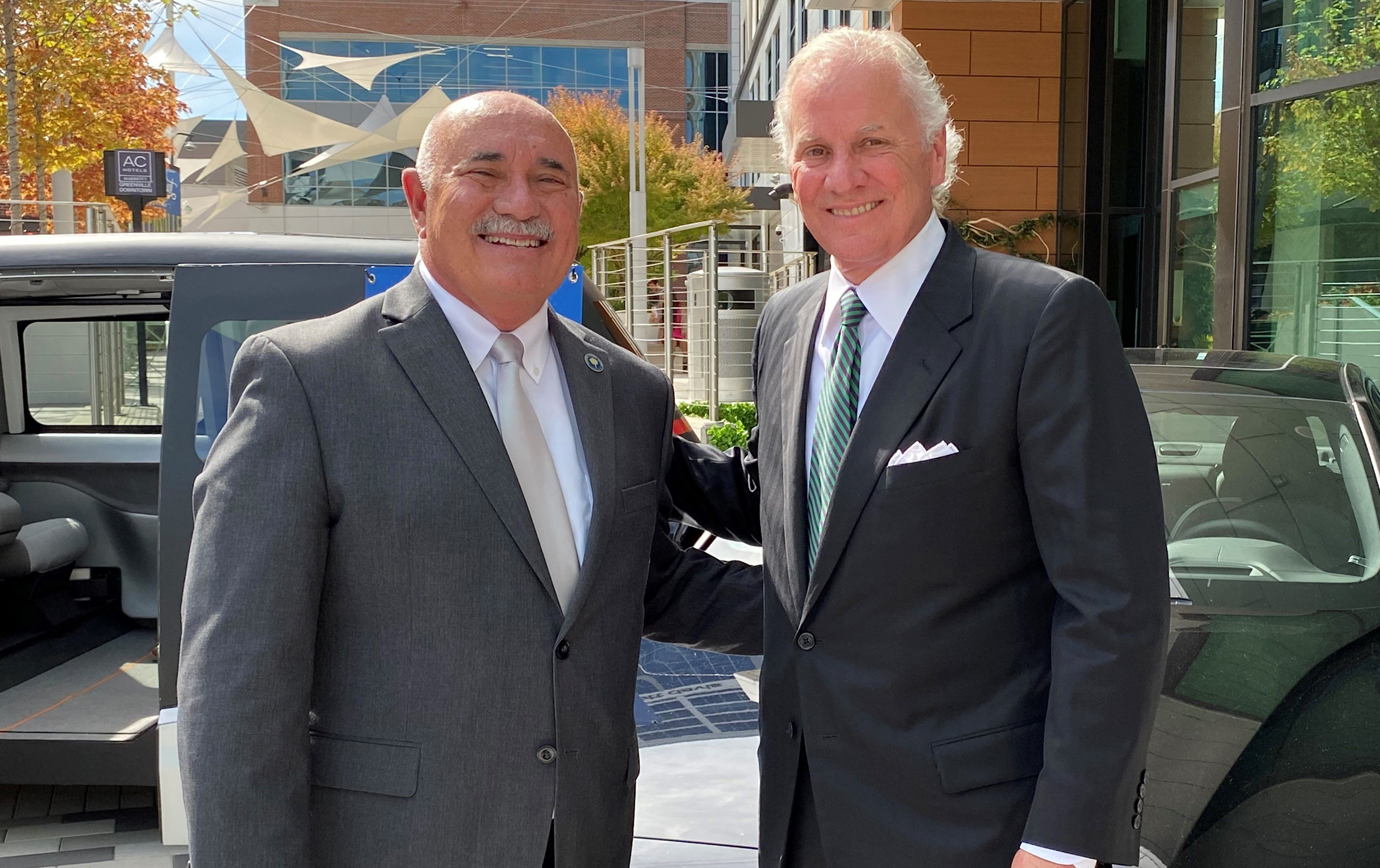 Charged Up and Ready to Roll
Interagency partnership is vital to the success of vehicle electrification in South Carolina, and the SC Technical College System is charged up and ready to roll! While other stakeholders work to address important questions about infrastructure, safety and technology, readySC and the state's technical colleges are already well positioned to meet the EV industry's workforce needs – from providing education for new and evolving automotive positions to supporting the training needs of EV manufacturers and suppliers.
Ready...
Vehicle electrification presents new challenges for South Carolina's economic and workforce developers. What new skills must electricians learn as we shift our energy focus? How does work differ for an internal combustion engine maintenance technician versus an EV one? How must we modify training needs to address safety concerns? How can we recruit employees with limited education about EVs?


"It has taken a century from the time cars were first invented – back in Henry Ford days – to build up to where we are today, and now we want to transition all of it in a few decades. "
— JB Straubel, founder and CEO of Redwood Materials
While the questions, skills and needs surrounding vehicle electrification may be new, the System's responsiveness is not. "We have proven processes in place with readySC and South Carolina's technical colleges to address the emerging industry of electric vehicles," said Dr. Tim Hardee, SC Technical College System President.

He highlights a few of the System's partnerships and the ways they have altered South Carolina's economic landscape:
Forty years ago, Michelin came to SC, asking "How do we make tires here?"
Thirty years ago, BMW came to SC, asking "How do we make automobiles here?"
Ten years ago, Boeing came to SC, asking "How do we make planes here?"

To each question, the System had an answer: "Let us help." And now…
Michelin makes 130,000 tires a day.
BMW makes 450,000 automobiles a year.
Boeing makes the most sophisticated 787 Dreamliners in the world.


Soon, the System will be able to add a new precedent to that list, as EV manufacturers and suppliers ask, "How do we make electric vehicles here?" and South Carolinians prove their adaptability, work ethic and skill once again.
Set...
Previous success is not the only measure of the System's readiness for vehicle electrification. Two- and four-year institutions, along with workforce development centers and industry partners, are set to participate in Collaborative Research: REVVED, a consortium that aims to develop a workforce that will support the manufacture, service and cybersecurity protection of electric vehicles.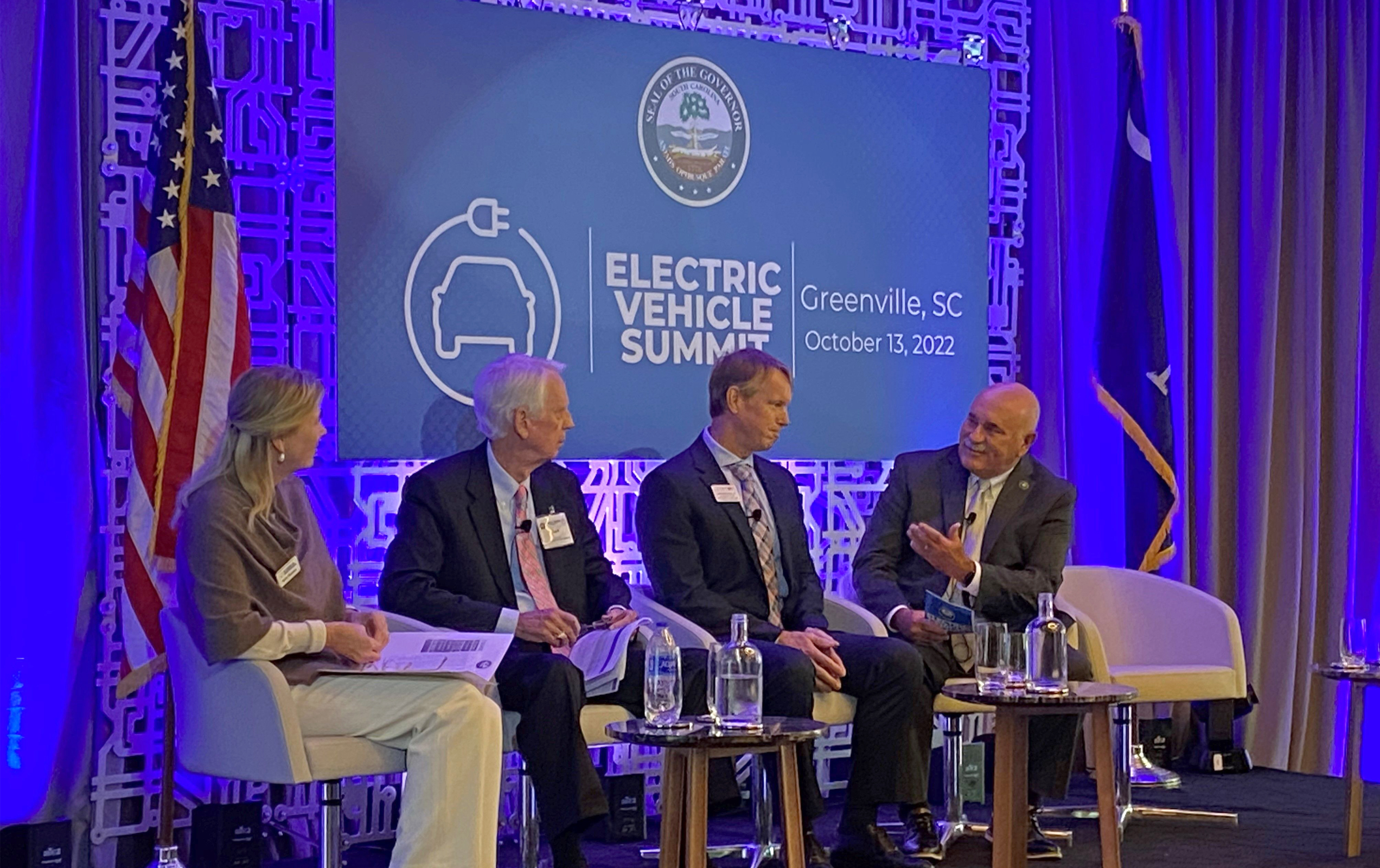 "REVVED is a great example of using National Science Foundation grant funds to have Greenville Technical College, Spartanburg Community College, Trident Technical College and Clemson University work jointly to develop a curriculum that will meet the needs of the EV industry's workforce," stated Hardee during a panel discussion at the 2022 EV Summit.

The curriculum will utilize digital learning tools – including video lectures, virtual reality simulations, online textbooks and interactive assessments – to reach groups that are underrepresented in the workforce, such as rural students and veterans. Geared exclusively towards tomorrow's technician pipeline, the online course database will be available at EducateWorkforce.com.

Industry partners also play a key role. All of the state's automakers are researching, developing, assembling or manufacturing electric vehicles or their components, from BMW's on-site battery production in Greer to Proterra's electric bus assembly in Greenville. As front-line automotive employers, their input determines skillset needs and informs curriculum design.


"That's what it's really about – joining forces. When those technicians and those engineers and those researchers are working hand in hand, then you have a better product overall," said consortium partner and Greenville Technical College President Keith Miller.
Go...
The System is ready with its proven track record of automotive manufacturing success and set to move forward with the REVVED consortium, but it's also already on the go with SC Workforce Scholarships for the Future.

Following the success of a $12 million disbursement of Governor's Emergency Education Relief (GEER) funds and the subsequent training of over 6,000 South Carolinians, Governor Henry McMaster and the SC legislature expanded government-funded support of critical workforce training needs in January 2022. SC Workforce Scholarships for the Future covers tuition and required fees at the state's sixteen technical colleges for students enrolled in high-demand fields, including manufacturing, transportation, and distribution and logistics – all of which will power South Carolina's evolving EV industry.

"We already have the best technical college system in the world, but we expect our training and education facilities to grow and strengthen" with this EV initiative, said McMaster. Providing scholarships that address critical-needs workforce shortages "fits right into that."

Just ask GEER fund recipients Liliana Cruz and Justin Smith.

After struggling with online classes during the pandemic, the couple learned about the benefits of team truck driving and enrolled in Tri-County Technical College's five-week Commercial Truck Driving program. A little over a month later, they accepted a job offer from Schneider National, Inc., and now make a combined salary of $140,000/year.

It has never been more affordable for those who aspire to similar success to turn their aspirations into reality. That's good news for the maintenance technicians, assemblers, machine tool operators, machinists, industrial production managers and others who hope to earn competitive pay and make a good living in South Carolina's EV industry.

SC Workforce Scholarships for the Future continues to be a legislative priority for the System for the 2023-24 year.

The System's continued, top-notch service to companies, partners and students in these innovative and comprehensive ways ensures that the state's workforce is ready for the EV transition!