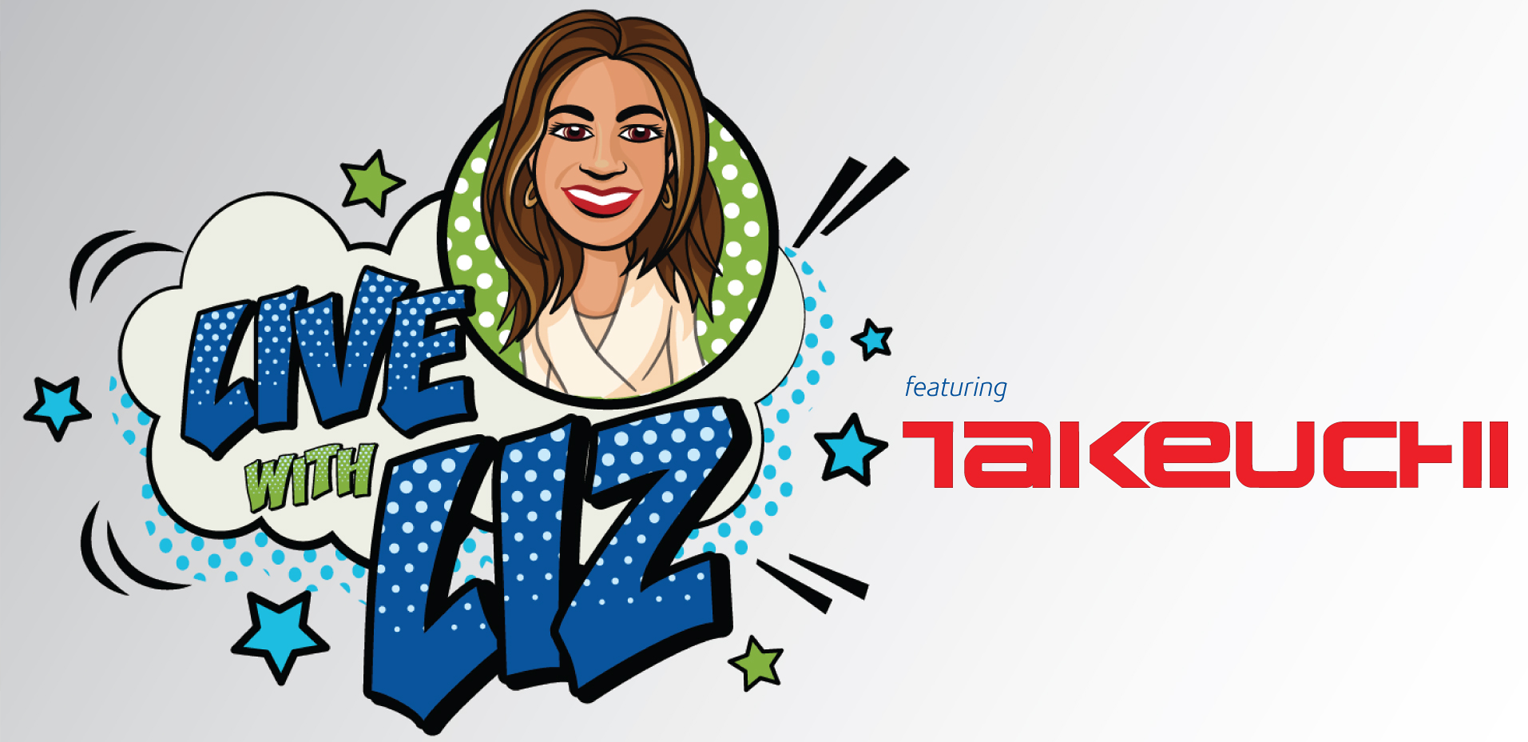 As part of readySC's ongoing recruitment efforts, area director Liz Jablonski interviews companies to get the inside scoop about their current job opportunities.


Filmed live at Takeuchi's Moore facility near Spartanburg, South Carolina, Liz Jablonski talks to Jeff Stewart, president of Takeuchi-US, Ginger Cone, human resources manager, and Ralph Wabnitz, director of manufacturing, about the workforce needed to start-up Takeuchi's first production facility in North America.
Liz Jablonski: Good morning, everybody. Thank you so much for joining us. This is our second 'Live with Liz' in September, and we are here rain or shine today but we're thankful to be here. I'm not gonna introduce the whole team, but we are in Takeuchi in Spartanburg today, and I said that right? So credit to me but I'll let our team introduce themselves today. Ralph?

Ralph Wabnitz: Yes, good morning. My name is Ralph Wabnitz. I'm the director of manufacturing.

Ginger Cone: I'm Ginger Cone, I'm the HR manager.

Jeff Stewart: And I'm Jeff Stewart. I'm the president of Takeuchi North America.

Liz: Awesome. Well thank you all for being here today. Thanks for letting us come out and plan this so we can be with you. We're excited to be here. One, because you just had your very first production of compact track loaders. I think they just rolled off last week?

Jeff: (agreeing) Last week.
Liz: You just said, September 22nd, which is awesome cuz you've only been here a few months in this facility, correct?

Jeff: Correct.

Liz: So we're really excited to be here. There's sun out front, the building is absolutely beautiful. We were talking about that before we started, this lobby area that we're in – you can't see it, but it is huge and gorgeous and super shiny. So we're happy to be here today. So let's just go ahead and dive right in. We're gonna start with Jeff, who's our president here. Tell us a little bit about the company history and what brought your first North American manufacturing facility to Spartanburg.
Introduction to Takeuchi
Jeff: Sure, yeah, Takeuchi's been around for a while. Mr. Takeuchi formed the company in 1963 in Japan. We started producing our first compact mini excavators in 1971 and then we formed Takeuchi US in 1979 in Atlanta, Georgia. Since then, we've moved a couple of times and now we're actually in Pendergrast, Georgia, which is our Takeuchi US headquarters. So about an hour and a half down the road from Moore, South Carolina.

So it's a great spot for us to be in. We've been trying to manufacture for a couple of years here in the United States. It started about 20 years ago when we became publicly traded. And so we've been looking for a place to do that. Last year we had the fortune of being able to purchase a facility that was already constructed here in Moore, South Carolina. So April 15th of this year we bought the facility, moved in, and then as Liz said, we started production and our first machines came off the line last Thursday the 22nd.

Liz: Very exciting and very quick turnaround. That's a few months.

Jeff: Yes. Yeah, the team here in South Carolina has been great and we've been able to accelerate some of their production and get things going pretty rapidly.

Liz: Very exciting. Well congratulations on that. we're gonna get more into that cuz there's a lot of good stuff going on here that we're gonna wanna talk about. But let's talk to Ginger and discuss a little bit more about those workforce needs. If you could tell us a little bit more about how many current employees you have, how many you're looking to add. Just give us a little insight. Okay.
Worforce Needs and Salary
Ginger: Well we've grown from an original 11 back in April. We have 40 employees currently here in South Carolina, but we have 170 in the US and we have an immediate need to fill 20 positions between now and November. We plan to have about 75 employees here in South Carolina by the end of the year and then a year from now about 130 employees here. So the positions that we're wanting to fill right now are, we have openings for folks in the warehouse and assembly and in the paint area. So something in every area. And the wages start at $17.50 for a warehouse and we're hiring assembly workers at $20 an hour.

Liz: Very exciting and very good pay. So if I was interested and I wanted to learn a little bit more or I wanted to apply, what would that process look like and what would you be looking for? What's my skill set you need?

Ginger: Okay, first of all, we're gonna be looking for, we prefer someone with manufacturing experience. We're gonna hit the ground running. And so in assembly we are looking folks with, have assembly experience and same with warehouse in the paint department we have painters that we're looking for painters, but we're also looking for folks that will prep for painting and are interested in developing in that role to become painters. We'll be doing the training for that. And then to apply, we ask you to go to sctechjobs.com and all of our applications are going through sctechjobs.com. And from there we will send an invitation to one of the several information sessions and plant tours that we have. But you must go and apply to be eligible for that.

Liz: Perfect. And you need to be invited to the plant tour and everything you plan to have. So they need 20 positions filled now as soon as you can. So hurry up and go online and just apply now if you're watching. But that's really exciting. So a lot of moving parts here and you're gonna be hiring so throughout the holidays then too, because that should take us through October, November and then it's almost the end of the year. So you're gonna keep on rolling. You're not gonna slow down too much for those holidays.

Ginger: We really aren't gonna slow down much at all because as we increase our production, which we have a nice staged increase in our production, we are also increasing our workforce. So if this is not a good time for an employee or someone to make an application, just continue to watch sctechjobs.com for openings.
Why Work for Takeuchi
Liz: Absolutely. Thank you so much. So I think the next question goes to Ralph, who's our director of manufacturing. You're gonna tell us about, in addition to the pay, which people always wanna know about, you're gonna tell us about the company culture, why people wanna work here, benefits, all of that. So if you could, let's start with what is it about Takeuchi that you want people to know? What's gonna excite them and get them to go apply?

Ralph: Well, I wanna start with Takeuchi now is a startup operation again. So we are starting back up from the Takeuchi body facility in April and we now preparing from April until now for the start production, which finally happened last week. So we are first of all super excited that after this three, four months of preparation we are able to have manufacturing started and machines coming off the production line. So from a manufacturing standpoint we are working only one shift. We don't have a second or third shift, which is extreme important for our employees. We're working four 10-hour shifts Monday to Thursday. We start at six o'clock in the morning and four 30 in the afternoon. There is no production plan for Friday, Saturday, and Sunday, which is very attractive for our employees.
Everything we have right now in the building, everything we put into the building is all new. We have new equipment, new tooling, new fixtures to get the production started and up and running. The future looks very bright, our sales is extremely good. As Ginger said, we need a lot of our employees to come to join us now. Cause production will increase this year, next year's all the way up to 2024. And we are planning to manufacture at least five different models here in this facility to produce here. So we're super excited, to have this going right now and we are in a great spot right now.

Liz: Absolutely. And like you said, this is a startup but it's a startup with the manufacturing cuz you've had a footprint in North America for 20, 30 years is what you said—
Jeff: 40.
Liz: Oh, excuse me. Double what I said. <laugh> 40 years. So even though this location is a startup in this area that Takeuchi has been here for many, many decades.
Company Culture
Jeff: And I think part of the culture for us is what's important too. While we are a wholly owned subsidiary of a publicly traded company in Japan, here in the US it's all local management. So while we have a few Japanese team members on site, the management is all local that we do here. So I think that's pretty attractive to folks. The other thing for our culture is we work a lot on doing what's right, and we focus on that. Sometimes it's right for the customer, sometimes it's right for the dealer, sometimes it's right for what's us, but we try to focus on doing what's right in everything that we do here. So yeah, I think a lot of folks see that as a benefit because if there's something that you can do to improve the process, we take those suggestions very seriously and we want to improve the processes as we move forward.

Liz: And I believe Ginger mentioned that just before we started too, that the processes kind of evolve as you go. Maybe something that you're doing today, it might look a little different based on learning something new tomorrow.

Ginger: Correct. It's a continuous improvement environment and as a startup we're doing things well, but we can do them better. So we're looking for folks that are flexible, to be able to adapt to change and also suggest and improve ways to do things so we can be efficient.
Sign-on Bonus and Travel Opportunities
Liz: Absolutely. So a few things I do wanna plug real quick. I know we discussed the four/10 work week schedule. So three day weekends every week, which is nice. We also talked briefly about sign on bonuses. You wanna touch on that real quick?

Ginger: Sure. We have an employee referral and retention bonus program. So for an employee who refers another, we have a $500 bonus that we pay to each at the end of 90 days. So we encourage our employees to help us recruit the talent that they would like to work with and recommend.

Liz: Absolutely. And one last thing that we discussed briefly was the training opportunities. So sometimes there's some opportunities to travel to Japan, I believe to get some further training. Would you like Ralph to talk About that?

Ralph: Yeah, obviously we have internal training program for every new employee who's gonna start with us. That's well established already. But we also have opportunities to go to Japan, to our headquarters to be trained there. For example, a new model start-up or any other processes we might change over time. So there are opportunities to go for extended period of time to Japan and be trained there by our experts and our colleagues in Japan.

Liz: Yes, that's awesome. And that's fully funded by Takeuchi so people can come on board and maybe not everybody, maybe it's a select group or something, if you are interested in something. And I think I said this during our last Live with Liz too – when I go to job fairs and I meet people for startups much like this one, I really encourage you to get in early because there's so much opportunity for growth when you're one of the first people on the floor, which is always great. And especially the training and investing in your team, like it sounds like you do is always exciting.

Ginger: Yes, we sent six of our employees to Japan in July to train for about four weeks and some of them have never traveled outside of the country, so we hustled to get those passports going and then our Japanese colleagues are now here helping us train as well. So it works both ways.
Positions Needed and Where to Apply
Liz: Very impressive. It's really cool. So in addition to the 20 jobs that you're gonna need filled pretty much immediately, I had seen a few others, I think you have picker and receiving associates, maintenance techs, that might not be your immediate need, but are those jobs also posted right now?

Ginger: Yes. The warehouse positions, the picker and receiver, warehouse receiving positions and material handler. Those positions we're recruiting for right now. Assembly associates are posted and the paint positions are too. We have fielder maintenance for now, but we plan to add to that department as we continue to grow.

Liz: Beautiful, thank you. And again, if you're interested, the website's www.sctechjobs.com and you can get all kinds of information there. And like she mentioned earlier on, if you apply and you get that invite to come out for the plant tour and to visit and see a little bit more about what's going on here, which again is just an absolutely beautiful facility. So I think now we're gonna go to the live Q and A. If you haven't put a question in there yet, go ahead and start to put that in there. We're gonna take the ones that have already come through and get those answered for you.
Viewer Questions
Leah Andrews: (speaking off-camera) Is your facility climate controlled?

Liz: (repeating) First question, is your facility climate controlled <laugh>? Go ahead.

Ralph: Yes, it is in some areas. Our main assembly area is fully climate controlled. So we have AC and heating system. Our west area where our paint operation is and our final and testing area are not climate controlled, just heating.

Liz: Okay, very good.

Leah: Regarding benefits and opportunities for employees any kind of opportunities for families or something like that?

Liz: (repeating) Are there any opportunities for families in addition to the benefits that are being offered to employees?

Ginger: Well opportunities for families, I would tell you that we include our families in a couple events throughout the year. We have a family fun day in the spring, and then we have a new year kickoff party in January where we do a lot of awards and recognition from the prior year. We invite our significant others to do that.

Liz: And one of the things you mentioned, I'm just gonna plug this real quick, is you said that you I think recently gave employees swag and the free uniform?

Ginger: Yes, we have free uniforms, free laundered uniforms for our employees, and then we like to give out swag. Today we just gave out a new t-shirt. Our company has a theme every year that Jeff is inspired by, and that's part of our company culture too. And it's a challenge that he presents to each of our employees. And I don't know if you wanna speak to that.

Jeff: Yeah, I mean part of that is we issue challenge coins out to each employee. There's some of those that we do after the 90 days are here I interview every employee after 90 days to see who they are and what they're about. And I issue the challenge coin to them. And then each year we come up with a new theme and a new challenge to issue to the employees as we move forward. But for us, the culture is really important and bringing the families involved is important to us as well. So we try to involve the families in the family fun day and the kickoff events. And then anything else we have throughout the year where we can involve families, we like to do that even in fundraising and giving back to the community. We involve our families in that as well when we're doing community outreach events or we're taking up donations for food banks and things like that.

Liz: That's awesome. And it's really interesting to hear that you interview everybody as the company president after 90 days. You don't hear that very often, so—

Ginger: He does. You can get an audience with the president.

Liz: Exciting. Yeah.

Jeff: <laugh> Whether you want to or not,

Leah: Is there a vaccination requirement?

Liz: (repeating) Is there a vaccination requirement? Was the next question.

Ginger: There is not. We follow the CDC guidelines for all our protocols and vaccinations are not required.
Liz: Okay.

Leah: And I know you mentioned earlier about the four/10-hour shifts. What are those hours?

Ralph: The hours are six o'clock in the morning until 4:30 PM in the afternoon.

Liz: Very good.
How Takeuchi Helped Tear Down the Berlin Wall
Leah: And we hear there's a little fun historical fact <laugh>. Would you mind sharing what that is?

Liz: Fun historical fact. So our producer Leah shamelessly plugging that. No, there is a fun fact.

Jeff: Yeah, actually when the Berlin Wall came down, there's several photos of Takeuchi mini excavators helping to deconstruct that wall that have circulated around the world. So we're proud of a lot of the things that we do here and just the longevity that we've had in this marketplace and compact equipment, and being part of some of those historical events is even better for us.

Liz: Yeah, that's really exciting, especially that's circulating around and that's how people are seeing your name and that's a great recognition for sure. Are there any other…?
Great 401k
Leah: Yeah, do you have a 401k?

Ginger: Oh, we have a great 401k. Our 401k, the company matches the first 4% at a hundred percent and it's through a safe harbor program. And so a hundred percent of that matches employees day one.

Liz: Oh, awesome. Awesome. That's excellent. Any other questions?

Leah: And you've already touched on this some, but I don't know if you have anything you'd like to add? How involved is management?
The Management Team
Liz: Oh, how involved is management? That's a good one. <laugh>

Ralph: (to Jeff) Go ahead.

Jeff: Well, I'll take it. <laugh> I guess it starts with the top of the management, right? So yeah, our management team is very involved. I mean from walking the floor every day out on the production side. I mean, I'm in our office in Pendergrast, Georgia most days, but I'm here in South Carolina one to two days a week. Our entire management team has been involved since day one and that means our Japanese management team as well as our US management team on getting this going.
So the team is really involved. We care about our employees and that's why we're out on the floor to see who they are. That's why I interview them at 90 days because I want to know who they are and what their families are about. They're just not a number to us. We don't assign employee numbers, we recognize people by name and that's how we do that. And I think that that trickles down everywhere in our management structure from line supervisors all the way up. Every one of those people in the chain has input into the organization and what we do and how we do. While I don't, I'm not able to follow everything everybody asks, but their input is definitely heard and we use it for further for future events.

Liz: That's great.

Ralph: And we also have a monthly all employee communication meeting where we share all the information we know from a management standpoint in regard to safety, quality delivery, human resource, procurement. Even finances to some extent we share with employees so the employees know exactly what's going on in every area and every department in the building. So we're very open with our employees and they should know how the business is good, how if the business is bad, and it's very important they can relate to that.

Liz: That's awesome. That sounds great.

Jeff: Plus we provide lunch when we do that too.

Liz: <laugh> Yeah, if nothing else you get some lunch.

Ginger: Yeah, once a month, we have a free lunch for sure. I just had Kona Ice out here last week.

Liz: Well, not today. It's a little chilly today.

Ginger: It was one of the hottest days right before the cold weather broke.

Liz: Alright. Do we have any other questions? That's it. Okay. Well thank y'all for watching and tuning in today. If you are interested, again, go to sctechjobs.com and be sure to follow us here so you can watch the next one. Thank you so much and have a good rest of the day.

Ginger: Please apply! <laugh>