Building a Skilled Workforce: The Success of the SRS Apprenticeship Program
The Savannah River Site (SRS), a Department of Energy nuclear facility, is facing unique workforce challenges due to new missions and a significant number of retirements. To address these issues and ensure a skilled workforce for the future, SRS has partnered with Aiken Technical College (Aiken Tech) and Apprenticeship Carolina to establish an award-winning apprenticeship program that will create a new talent pipeline for the nuclear industry.


The apprenticeship program "really came at the right time for Savannah River. We're hiring thousands of people per year right now, over the next several years," says Rick Sprague, Senior Vice President, Environment, Safety, Health and Quality (ESH&Q) and Security for Savannah River Nuclear Solutions.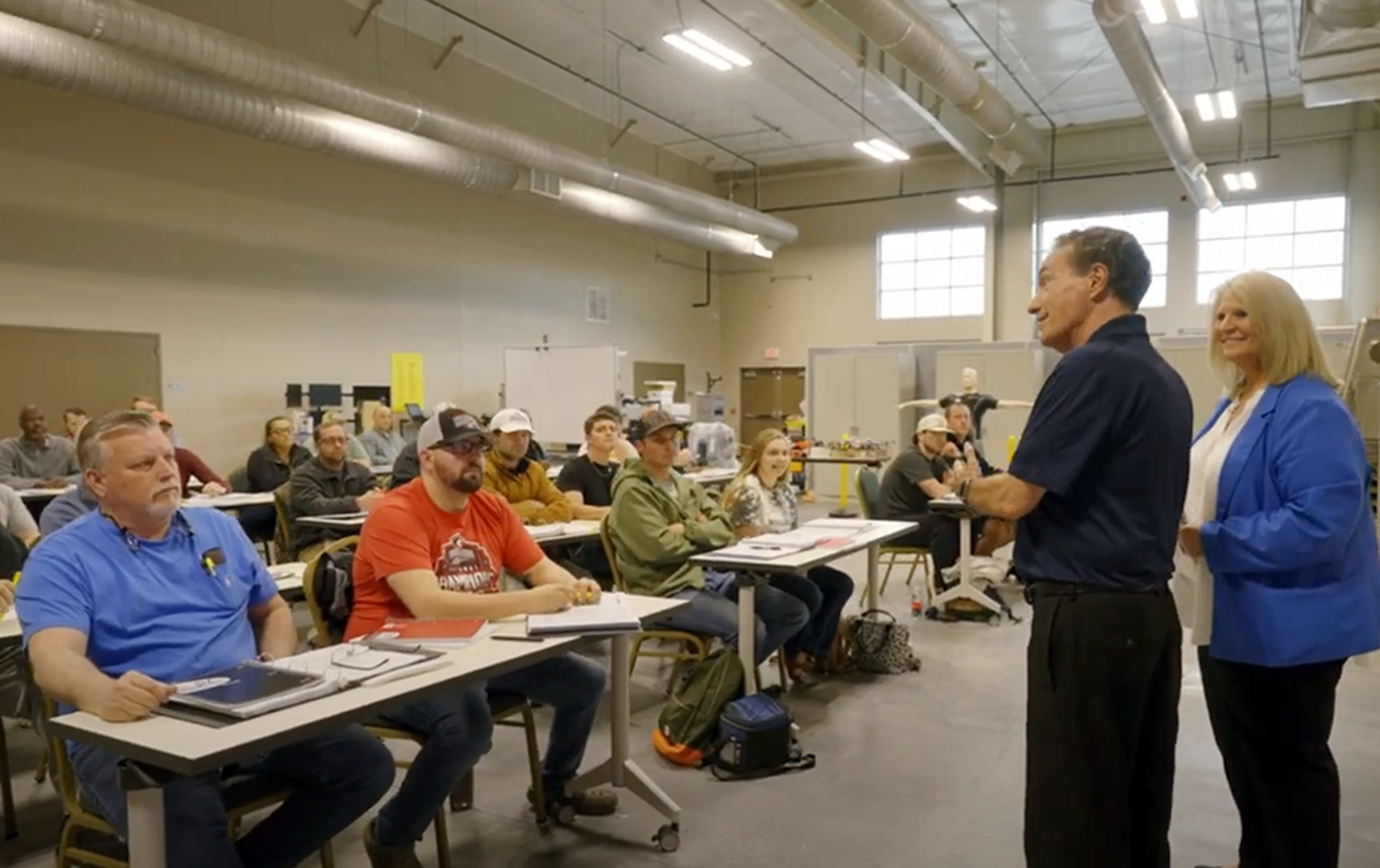 Collaboration for Success
In the first phase of the project, Apprenticeship Carolina helped SRS to formally register several job-specific apprenticeships with the Department of Labor. "They provided this roadmap for us on how to entice folks to come in and learn a new skill," says Sprague.

Savannah River Site began construction in South Carolina in 1951 and is the largest employer in Aiken County with nearly 11,000 employees.

SRS identified the job positions that had the greatest workforce need and collaborated with Aiken Tech and its Nuclear Fundamentals Apprenticeship team to develop curriculum that could train individuals for entry-level positions.

"We have a program that can take someone very green. We train them, we teach them, and we offer them an awesome career," says BooBoo Roberts, Program Manager SRS Apprenticeship School and Technical College Executive on Loan.
Empowering Through Technical Training
For those who are chosen for the apprenticeship, the program can be the opportunity of a lifetime.

"The Apprenticeship Carolina program and Savannah River Site… changed my life," says Earl Valentine, SRS apprentice.

For apprentice Teena Rouse, working at SRS is a dream come true. "When I found out I was going to get the opportunity to do the technical training, I was elated."

"I had previously no experience coming into the job," admits apprentice Ashton Ervin. "The accomplishments that I've made – I feel great."

"This place has just been nothing but good to us," agrees apprentice Brandon Christiansen.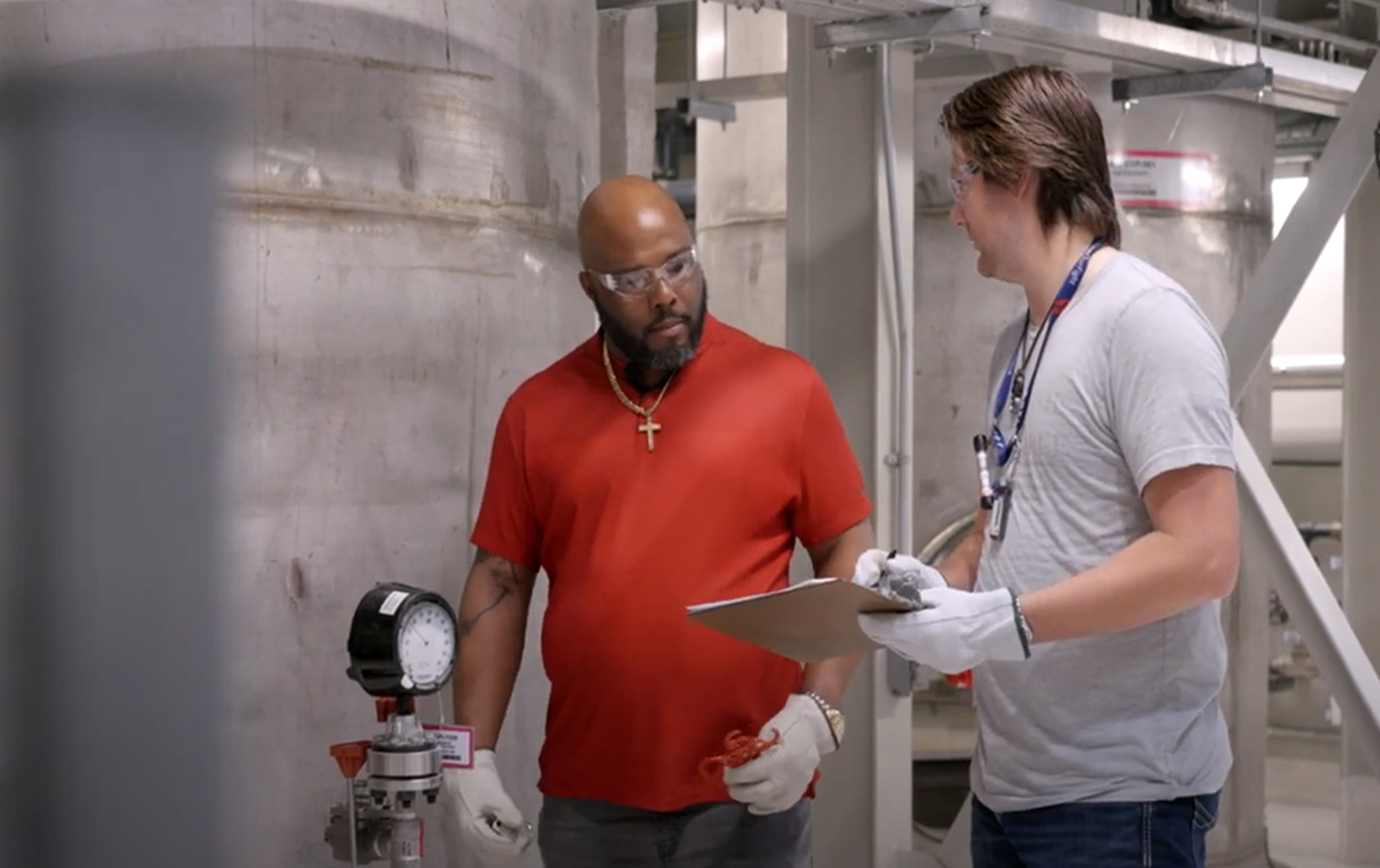 A Winning Formula
The first cohort began in 2020 with 10 apprentices, and by the fifth cohort that number had grown to over 100. The program is so successful that the Nuclear Fundamentals Apprenticeship team recently won a state-wide award for technical innovation. In 2023, the team helped SRS expand on its winning formula so the program could also be taught at other nearby technical colleges.

"It's been really a winning relationship with the local colleges. They draw the talent, they have the curriculum, the professors," says Sprague. "We supplement that in many cases with our own employees."

BooBoo Roberts is one of the employees on loan from SRS to teach at Aiken Tech. She explains the structure and funding of the program: "We have partnerships with Aiken Technical College, Denmark Technical College, [and] Orangeburg-Calhoun Technical College, and Apprenticeship Carolina provides the grant funding for the students to be able to attend the technical college. Two days a week they come to the school, and two days a week they report to the site for on-the-job training."

Candidates must apply for the program and, if chosen, are hired as apprentices by SRS and paid during the apprenticeship.

"So you're getting paid to be on-site as a job and you're getting paid to go to school. You're getting everything that you need to initially get into the program and be successful," says Ervin.
Transforming Lives and Careers
With a focus on training, support, and paid learning opportunities, the SRS apprenticeship program has become a transformative experience for participants.

According to Sprague, "We pull folks not only from high school – which is a great starting point – [but also] from second, third careers into the apprentice program."

"After 20 years of being a professional barber, I feel like the Savannah River Site opened their arms to me," says Valentine. "They just started me on a new career."

"I was a little nervous about it to be honest with you," admits Rouse. "I've been out of school for 30 years, but they make sure that before you leave that class, you know the material. You know what you're doing, and you get this."

"I'm glad for the people that helped me through it because I'm not big on books, so it meant a lot to me that I've gotten this far and I'm steadily trying to better myself every day," says Ervin.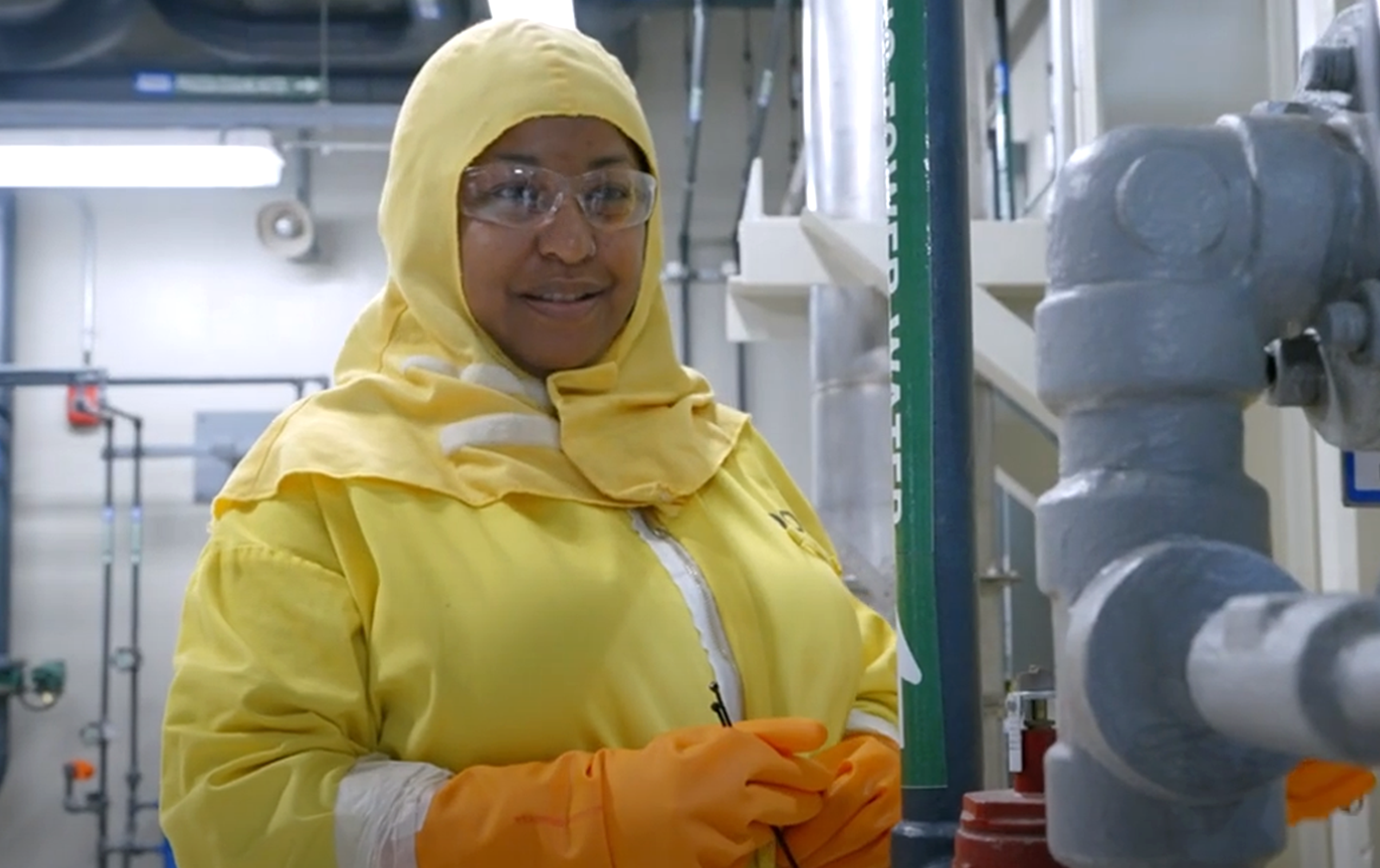 The Power of Apprenticeship
"We need the qualified, safe worker to meet the demands of the essential missions that we have out at the Savannah River site," says Roberts. "The other thing is national security. We're controlling material that needs to be controlled. And everybody that works out there has that responsibility, but they know that they're making a difference when they go home."

"You've got all these people that are just putting so much time and effort into you, and they're getting you certified, qualified," says Christianson. "I've got so many people rooting for me that I want to perform better and bring real results."

"I just feel like it's only right that I give 100% back," agrees Valentine.
Making the Right Choice
There is no guarantee of employment beyond the apprenticeship, and employment is not required upon completion. Students are able to decide for themselves if this is the career they want as they gain valuable experience while earning the Nuclear Fundamentals Certificate.

"This is a win-win-win, really. It's a win for the students. They can come to Savannah River, learn a skill, be paid to go to school, learn if this is really their thing, and if it's not, they end up with a certificate that is transferable," says Sprague.

For those who are trying to decide if they can do the apprenticeship, Teena Rouse has some words of advice. "I say to anybody that is afraid of taking that leap of faith, just to go ahead and do it. You have to build yourself up and you have to convince yourself, 'Hey, I deserve this.' You'll gain knowledge, you'll gain experience, and it's a good thing to be a part of."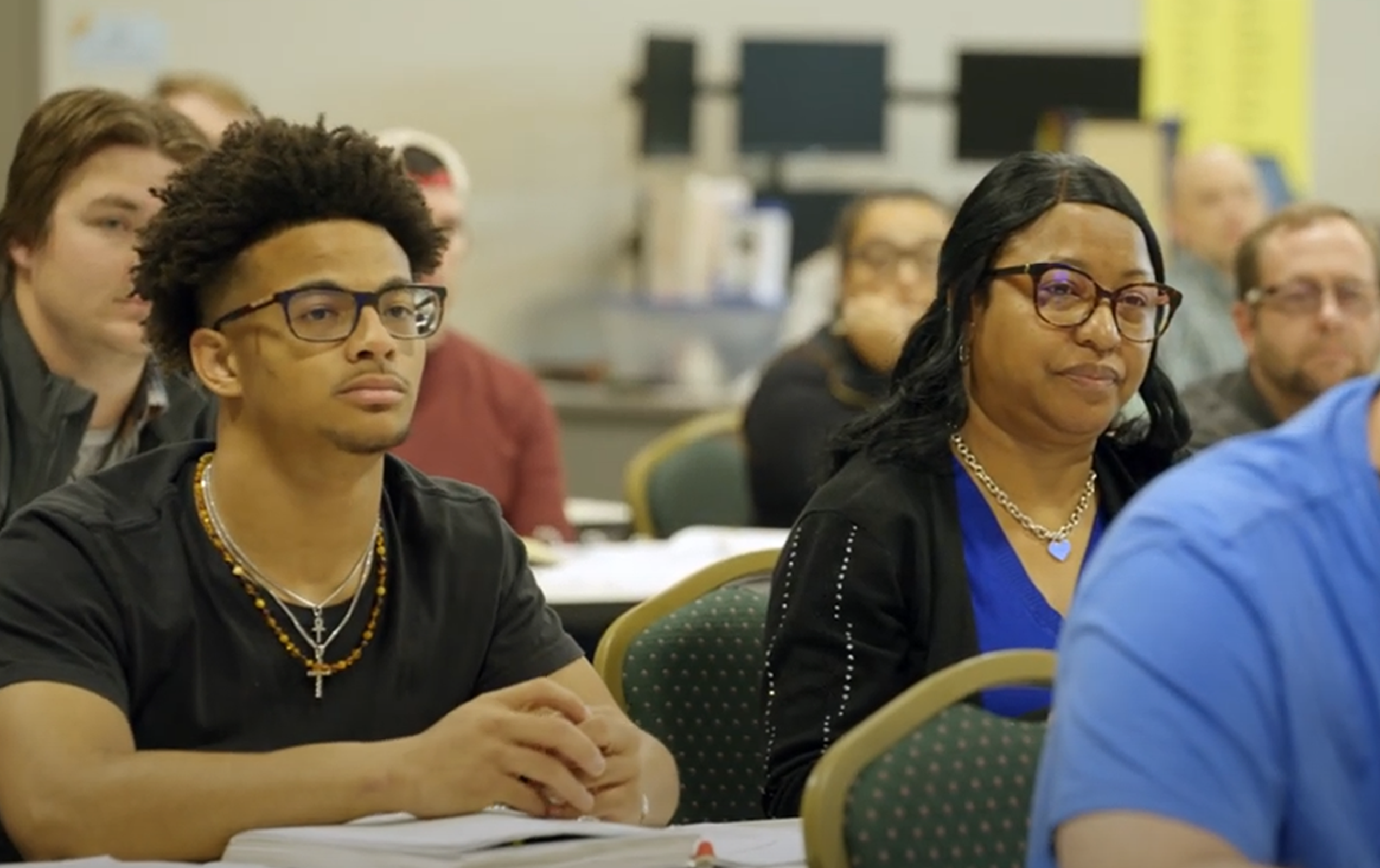 Everyone Wins
The apprenticeship program is paying big dividends to SRS, to the apprentices and to their families.

"Apprenticeship gave us that chance, and not just for me but [also] for my kids, to see that I'm able to go back to school," says Valentine. "I'm very excited. I've got 3 daughters and for them to see me come into a position where I can better myself and my family, it'll give them hope for the future."

"I think apprenticeship gives people a chance to prove to yourself. If you apply yourself correctly, you can do it," says Ervin.

For Sprague, apprenticeship represents an important return on investment for SRS. "We invest our time in these folks because at the end of the day we'll have 20, 30 years of productive time that they can give back to the company."

Christianson agrees and looks forward to growing his career at SRS. "If you want a safe, long-term plan for work, this is the place to be. I'm very happy that the apprenticeship program paid off."

Find out more about the Nuclear Fundamentals Apprenticeship Program at Aiken Tech